Have you ever wondered which of Cisco CCIEs, influencers, and thought leaders are on Twitter?
Here is a list of seven of the most influential and impressive CCIEs you must follow and why.
1. Tom Hollingsworth, CCIE - Networking engineer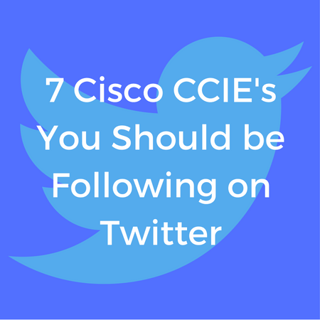 Self-described influencer, and networking nerd from Norman, OK. Hollingsworth makes reading about networking entertaining --that is if you are into snark.
SIP: Because There's No RFC For Dumpster Fire.

— Tom Hollingsworth (@networkingnerd) May 17, 2016
Tom is a thought leader in IT Networking with a cynical and acerbic wit. He is the organizer of the Tech Field Day event series which focuses on networking/wireless events.
2. Ethan Banks, CCIE #20655
Banks is an industry veteran and "Interview of Nerds." He has a successful IT podcast called Packet Pushers.
Folks, "SDN" as a term is utterly bankrupt and devoid of meaning. Shift the conversation to business requirements and solutions. #NFD11

— Ethan Banks (@ecbanks) January 22, 2016
Banks is definitely a thought leader in the industry and has quite a following. He has over 20 years IT experience as a network architect. He is a frequent speaker at Interop. He co-hosts the Packet Pushers podcast. He also writes articles for various tech websites.
3. Anthony Sequeira, CCIE R&S, CCNP Security, CCNA Wireless, CCNA Voice, DCUCD-I, VCP
Sequeira started out at IBM in 1994. Left to start his own, successful consultancy company before finding his true passion, writing, and training for Cisco.
Why did the TCP packet go to Las Vegas? He heard it was SYN City! @amyengineer pic.twitter.com/6wWbQ7qonN

— Anthony Sequeira (@compsolv) November 18, 2015
Anthony is a prolific author for Cisco Press. He is a trainer for CBT Nuggets.
4. Aseel Othman CCIE #47754 - Cisco academy ambassador.
Aseel is passionate about tech and marketing. She is studying computer science at PSUT
Glad I participated in #GirlsinICT event ,hope girls were inspired by my journey! #GirlsPowerTech #cisco #netacad pic.twitter.com/LgXGzwpYmc

— Aseel (@aseeloth1) May 12, 2016
She is one to watch. At 18-years-old Aseel Othman is the youngest female CCIE in the world.
5. Jeff Fry, CCIE R&S, JNCIE-ENT, JNCDS-DC, DVC
A writer of many tweets, blogs, and study guides.
Fresh information for Cisco Live 2016 - Animals and Oh's! #CLUS @CiscoLive #CAE https://t.co/rNUby3GWnV #monday

— Jeff (@fryguy_pa) April 11, 2016
He is an influential blogger and writer in the IT field. Of late, he has become outspoken in his advocacy to see changes in CCIE testing.
6. Brian McGahan 4X CCIE #8593 DC- R&S -SC-SP CCDE #2013
Co-founded INE in 2003. A company that has successfully trained > 3,600 CCIEs to date.
Purging old paperwork & found my original CCIE RS Written score report from 15 years ago - 50% on TCP/IP LOL :) @ine pic.twitter.com/xcaFbICBga

— Brian McGahan (@brianmcgahan) May 20, 2016
McGahan was one of the youngest engineers obtain his CCIE in R&S. He achieved that goal in 2002, at the age of 20. He has since forged a successful career in training.
7. Andre Laurent, CCIE, CCDE, Architect, Mentor
Laurent is the Worldwide Director of Engineering for Enterprise Networking @Cisco
#purpose #passion #inspiration #influence pic.twitter.com/8Pkp8CcEXJ

— Andre Laurent (@askaccde) September 2, 2016
Andre is a fixture on Cisco Live. He is a prolific speaker and prominent figurehead for Cisco.
"what truly drives me is people and the possibility of helping them realize lasting impact and meaningful change." ~Andrew Laurent Cisco
In researching, we found many other CCIEs worthy of following on Twitter and many still, that do not have Twitter accounts.
The seven we profiled here are some of the most prolific, writers, bloggers, speakers, and executives. They are in all phases of their careers and each one has an interesting and unique take on CCIE and the state of IT, in general.