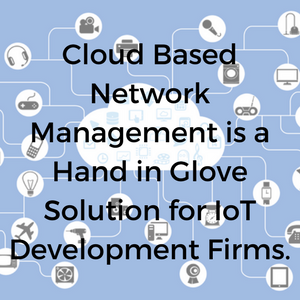 In the rough-and-tumble world of IoT development where moves, changes, mergers, and other assorted chaos often rules the scene, adaptability is king.
If your firm is involved in developing a cutting-edge IoT application or device, your network configuration, monitoring, and management system should not take the form of an inflexible behemoth meaning for example, a major software suite with predetermined parameters.
Cloud based network management makes a heck of a lot more sense.
As with all things cloud, a fine cloud based network management solution is only there as long as you need it and is instantly scalable either up or down. That's important when your project has to go through a major gear-shifting of one form or another or needs to be scrapped altogether in favor of a whole new, different move.
In todays' computing world that is so infected with bad actors there is no skimping on IT management as it relates to security.
Theoretically this means there is potentially no limit on the amount of money that might be spent to ensure IT security. One thing is sure -- instant scalability is hugely helpful, both in terms of controlling costs and in terms of quickness of deployment.
Network management through an excellent SaaS solution may be had very quickly and at finely controllable cost.