In the rough-and-tumble world of IoT development where moves, changes, mergers, and other assorted chaos often rules the scene, adaptability is king.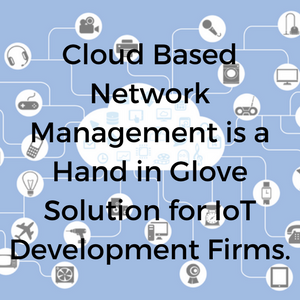 If your firm is involved in developing a cutting-edge IoT application or device, your network configuration, monitoring, and management system should not take the form of an inflexible behemoth meaning for example, a major software suite with predetermined parameters.
Cloud based network management makes a heck of a lot more sense.
As with all things cloud, a fine cloud based network management solution is only there as long as you need it and is instantly scalable either up or down. That's important when your project has to go through a major gear-shifting of one form or another or needs to be scrapped altogether in favor of a whole new, different move.
In todays' computing world that is so infected with bad actors there is no skimping on IT management as it relates to security.
Theoretically this means there is potentially no limit on the amount of money that might be spent to ensure IT security. One thing is sure -- instant scalability is hugely helpful, both in terms of controlling costs and in terms of quickness of deployment.
Network management through an excellent SaaS solution may be had very quickly and at finely controllable cost.
This becomes important when for instance a big group of servers must be stood up quickly and managed effectively for not only performance but also the best possible security.
A crucial aspect of security is the ability of your organization to backup and recover data. Besides the obvious need to replicate critical data, this is huge in terms of cost savings -- down time reduction becomes more important by the minute if something major happens and your backup system must be called into play. Backing up data in the cloud prevents data loss from whatever type of machine failure or physical disaster and allows for rapid recovery. In fact if something happens your crucial data can be moved off site within minutes and retrieved from the cloud just as quickly and easily.
Accessibility is a crucial component of network management in todays' computing environment where mobile devices and mobile apps are as much a part of the ecosystem as anything else.
The ability to monitor and manage or even configure and troubleshoot from a mobile device and app is an enormous asset to any data-dependent organization. This is especially true for organizations that change quickly and/or change often.
Cloud-based network management allows anywhere, anytime access for mobile devices to perform network management - all that's required is an internet connection.
Your organization is sharp, adaptable, and quick, and it needs to stay that way.
Technology of one form or another, while certainly helpful, must not get in the way. Your organization will want to spend the bulk of its time, talent, and treasure focusing on development, whether that means adding new features or simply stabilizing a current build and getting it ready for a debut release. The time consuming tasks of doing software upgrades, performing data backups, and arranging and configuring a major software suite for the purposes of network management is best left to others. Then, your experts will be free to focus on main objectives.
Finally there is the question of storage and other potential needs that your network may have.
Would you rather buy a bunch of servers or have an elastic storage solution that allows you to immediately add or remove capacity as you need it?
The cloud-based storage solution is clearly superior especially for firms that are on the cusp of IoT development and are subject to rapid change.