Network monitoring isn't just for telling you how your business's system metrics are doing now, but for getting a historical context.
A monitoring service maintains logs, and software tools let you compare current and past data.
Learning from the network's history helps you to prepare for the future.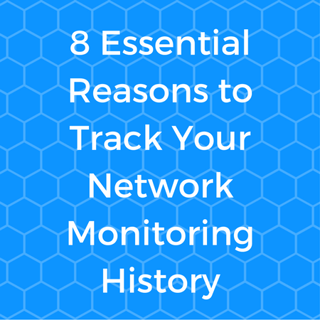 Tracking network history offers many benefits:
Finding out how fast usage is growing
A steady increase is a sign of a growing, healthy business, but it's also a message that the network may soon need upgrades. Monitoring history can pinpoint which resources could become limiting factors. A faster Internet connection might be necessary. It might be time to budget for a more efficient router or a server upgrade. Knowing about the need long before it becomes critical means performance won't suffer.



Observing trends in internal use of resources


Are VoIP calls taking up more channel capacity each month? Is cloud usage growing? Is casual viewing of Internet videos getting out of hand? Knowing which kinds of usage are increasing or decreasing can help measure how well-used resources are. It could indicate that additional purchases will help, or that changes in policy are necessary to limit usage.


Noting trends in client usage
If your business provides services to clients, monitoring histories can let you see if it's maintaining service levels or they're declining.

It's better to perform necessary upgrades before clients start complaining.

If your service level agreements make specific commitments, then early upgrading can prevent penalty charges and loss of business.


Seeing trends in public usage
A business that runs a website needs to know how well it's doing and how people are using it.

If usage is flat, it may be time to put new effort into publicity and SEO, or to improve the content.

If more people are coming in, it's valuable to see where they're coming from. Having as much information as possible is essential to planning a website.


Discovering time shifts in usage patterns
If there's increasing usage outside of normal business hours, that can indicate more activity from distant geographic areas.

If any of it requires prompt responses, it could indicate that the company should broaden its support staffing hours.


Measuring seasonal trends
Companies involved with the retail market expect to see an increase in traffic in December; measuring the increase helps to tell how the seasonal business is going.
Reviewing network monitoring history can help to detect dangers:
Recognizing abnormal incoming traffic
Low-level but persistent probes may evade detection by other means, but increases in failed access attempts can show up in the history.

Strengthening the protection against those probes can help security.


Recognizing abnormal outgoing traffic
If there's an increase in unusual types of activity originating inside the network, that could indicate that one or more computers are infected with malware.

Infected devices can run for a long time before being noticed, and the network's IP addresses could be blacklisted if others notice first.

Catching patterns that indicate a connection to a command-and-control server or sending of spam email lets your IT department locate and stop the activity.
Software tools for network monitoring and history
With the right software tools, it's easier to analyze the history and make valuable discoveries.

Graphic presentations show trends visually, and analytic software will pick out important trends and threats.

Network logs contain huge amounts of data, and good software is necessary to pick out the important information.
NMSaaS includes tools for analyzing network history in its cloud-based network monitoring service. You'll be able to see not only what's happening currently on your network, but the direction activity on it is taking. This lets you make more precise plans for its future.