Network monitoring is moving to the cloud and it's going to change everything about the way your managed service provider (MSP) protects and manages your system.
In the past, in-house or local monitoring tools were considered to be more secure and more reliable.
As cloud-based networking monitoring continues to advance and evolve, however, those advantages are starting to fade and the benefits of off-site monitoring are pushing the industry forward.
There is a lively debate among IT professionals as to whether the improvements in cloud technology have truly provided the usefulness and security they advertise.
Here's the truth:

Big players are dumping tons of money into cloud development. This year the number of connected "things" will reach 6.4 billion. In fact, the cloud is becoming so ubiquitous that "cloud computing" may simply become "computing," as it completely replaces traditional systems.


Hybrid clouds are arriving, and with them increased security. Microsoft is pushing the envelope when it comes to the integration of two clouds. This will allow their Azure infrastructure to meld public clouds with private. IBM, Amazon and Google are likely to follow suit.


Machine learning allows far better system monitoring. Machine learning systems flag anomalies, assess behavioral patterns and respond accordingly, all within milliseconds. The catch is, these algorithms need a large amount of data in order to function at their maximum effectiveness. That means they are actually better-equipped for cloud-based network monitoring than for local systems.
Additional data systems, blockchain for example, are being tested for viability, effectiveness and efficiency and even more big strides are expected this year.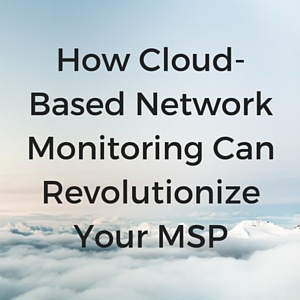 As the growth and usefulness of cloud-based network monitoring continue to outpace advances in local or in-house monitoring systems, MSPs that utilize that technology will have a significantly more robust set of tools than those that are holding to the old system.
Open source monitoring systems now have self-correcting features. In addition to the real-time alerts, communication via text, email and apps, and infrastructure adjustments, cloud-based network monitoring systems can now perform minor corrections to fix problems automatically. For example, they can restart failed applications or retry events that did not go through successfully.


Some of the more comprehensive systems even project system demands and compare them to current infrastructure capabilities. If your infrastructure is not going to be sufficient for the projected needs, the system will prompt you to upgrade the capability and avoid an outage.


You can now monitor network services along with host resources. Rather than seeing components individually, you can now get a realistic picture of the system as a whole. This allows significantly more flexibility when it comes to allocating and managing limited resources.



Cloud monitoring gives the engineers and managers access to a completely different perspective. There are new tools and apps who monitor network performance as a customer and report on outages or issues as that user would see them. It is a viewpoint you would not be able to get from local monitoring tools.
The plethora of tools and apps available to your MSP through cloud-based network monitoring systems give them a wealth of information delivered in a user-friendly format that increases response time and system performance.
2016 is shaping up to be the year network monitoring took a giant leap forward by letting go of the misconceptions that in-house systems can be better and embracing the robust tools and apps that are coming with the cloud systems.
The movement is truly going to revolutionize your MSP and empower them to deliver the quality of performance upon which your company relies.