When a company grows large enough to expand out of its original building, the owner often chooses to open a second and third store location in a chain, giving these successfully spreading businesses the moniker of 'chain stores'.
If you are an owner or network administrator for one of these chains, you understand the hassles of keeping everything from inventory to security protocols unified and up-to-date.
While many companies can debate local vs cloud network monitoring until the cows come home, chain-store admins have every reason to take monitoring to the cloud. All the computers they need to track are not and could not possibly be in the same physical network, and yet still need to constantly share information, configuration settings, and software updates.
For tracking and controlling a unified computer system over multiple locations, there is no substitute for high-quality cloud monitoring.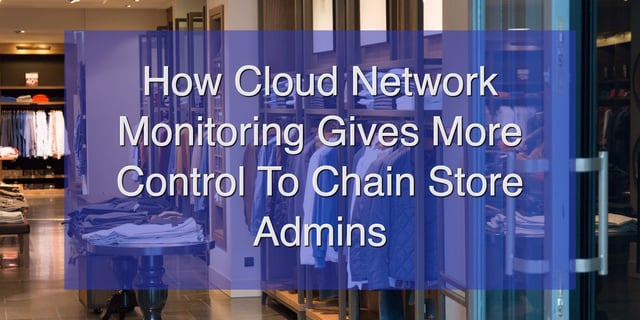 Synchronized Management Systems
In most retail, studio, or restaurant locations, there is always at least one bookkeeping and records computer, even if the data itself is stored on the cloud.
When new locations are founded as clones of the original, they also need 'cloned' computer systems. The same operating systems, the same configurations, network capabilities, business management software, and even shared data. Where once this would have required the company's network admin to drive from location to location with a set of notes and a handful of software CDs, now it requires only initial machine setup, the cloud, and remote access.
Some of the things you can track with cloud network monitoring include:
IP and MAC addresses

Operating Systems and Firmware

Services, Memory, and Interface Information

SNMP and Netflow

Traffic Analysis

Packet Loss, Latency, Jitter, Availability

Quality of Service Metrics and Fulfillment

Temperature, Power, Routers, Switches
Point of Sales Systems
While the cash register is the original Point of Sale (PoS) system, there are now hundreds of options, from department store retail stations to fast food touch screens, and now even personal tablets running the store's retail app.
For the admin to really have their thumb on the entire company's network, each of these devices needs to be monitored, secured, and analyzed for performance. With the power of cloud network management, you can...
Group devices by location, model, and configuration

Monitor and maintain entire network of devices from anywhere

Manage, backup and update device configurations remotely

Catch, diagnose, and fix bugs early

Create and test isolated groups of devices
Unified Analysis and Reports
Network management software allows you to compile and compare data across all systems in your network.
When you are hooked into and constantly monitoring all company devices, patterns and opportunities to optimize often emerge that you never would have seen otherwise. Whether you load-balance during busy hours or identify security holes, your strategy will inevitably improve when you have the whole picture. With comprehensive and easy to read reports, assessing the health of all computers in your care becomes a matter of quick assessment. The ability to track computer performance and stats across the network can also be an amazing help when trying to diagnose intermittent system errors by tracking down symptoms between devices and behaviors that occur in clusters.
When it comes to analysis, here's a few things that cloud network management can do:
Combination and Comparison Reports

Utilization Reports on volume and throughput with baselines, topN, and trends

Data arranged in timelines to reveal patterns

Predictive and Simulation analytics

Cause Analysis to hunt down troublesome bugs

Compare effectiveness of saved and current configuration backups
One Security Configuration
As hackers, malware, and aggressive viruses become more prevalent, every business should consider itself at a certain amount of risk. Files they are responsible for keeping, from financial records to customer and employee personal information could be stolen, corrupted, or destroyed at any time. For any single admin or even team of admins to get a head start on security, unified procedures are necessary. From regular backups to data encryption, whatever methods your business uses, you want to be able to check the integrity of every device on the network both regularly and for spot inspections. If you identify an infected device, it can be dealt with quickly and cleanly to save the rest of the network.
Signs of malware infection include:
Port Scans

Spikes in network activity, incoming or outgoing

More than 10 failed login attempts

Normal user doing admin tasks

Stolen or faked credentials, watch out for unknown usernames or unusual activity
Alerts on All Systems
SNMP (Simple Network Management Protocol), one of the original network monitoring technologies, includes a built-in system in which an admin can set "traps" that, when triggered, cause the system to send a message. These traps are most commonly used to detect when a device or network connection has gone down, but can be set practically anywhere including when memory, bandwidth, or temperature spike for any or all systems. If there is a particular bug you are hunting for and know the symptom, you can set a trap for that as well. With modern network management programs, you can instruct the trap message to be sent to your email or personal notification system, ensuring you never miss an important outage.
The more locations and devices incorporated into a business chain, the more network monitoring it takes to support. Whether the owner is acting as their own network administrator or has hired an in-house admin to handle their chain store computer needs, cloud network monitoring is by far the fastest and most convenient way to handle this complex but not uncommon task. Because if its ability to bring together and monitor more than one physical network into a single set of reports and dashboards, any multi-location business has a lot to gain from integrating a coherent cloud network monitoring system into their personal suite of business software and technical procedures.