Cloud-based network monitoring is quickly becoming a staple among business organizations of any size.
However, the tools and resources available through cloud based network monitoring are also applicable to government agencies, and can be implemented to vastly improve any agency's current customer service capabilities.
Fortunately, getting started with network monitoring is fairly simple with the help of a professional monitoring service.
Choosing Your Monitoring Service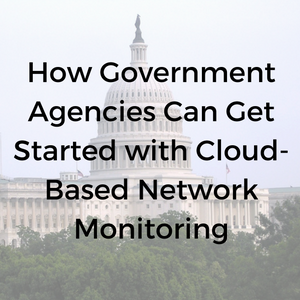 The first step toward getting onboard with full time network monitoring is choosing a service provider who specializes in these tasks.
While most monitoring services offer similar services, their software and hardware may vary slightly from one place to the next. In general, you should be looking for the service provider that has the highest up-time and reliability.
You should also be looking at how in depth your monitoring will be, and what kinds of troubleshooting and support processes are currently in place if there is a problem.
Mapping Your Network
After you have selected a qualified cloud-based network monitoring service, the next step will be to actually install the software that monitors your devices, and begin mapping out your network.
Some monitoring services automatically search for active devices and instantly begin by creating a baseline for performance from which they track changes.
On the other hand, some services require a manual install and discovery process. This may be a good opportunity to thoroughly look through your network and determine if there are any outdated or wasted devices which can be removed or upgraded to improve network connectivity.
Best results also generally include returning most devices to their default configurations to create a baseline from installation, as opposed to a baseline from whatever they are currently loaded with.
Gather Results
Once your network has been fully mapped and your monitoring service is actively engaged with each device, they will begin sending you regular reports about the performance of your network as well as any issues they have found in the process.
Some monitoring services will only send you alerts when there is a problem. The good news is that these alerts are detailed and can point you directly to the piece of your network that is not performing up to expectations. For government agencies, this can be particularly helpful when residents are trying to access government resources online around the clock.
With the help of a successful cloud based network monitoring program, any government agency can take advantage of the advanced technical support that an off-site IT team has to offer.
Cloud based network monitoring is also very simple to implement and will cause very little disruption to your day to day operations during the rollout. After the system is in place, your agency will experience far fewer server crashes and much less down time, increasing the ability of your residents to access important information when they need it most.