Are you a Cisco Certified Network Associate (CCNA) who's looking for your career's next step up? Are you working on getting the certification and looking for the best information sources?
Following the right Twitter accounts can help tremendously. Keep track of a group of relevant Cisco and non-Cisco sources, and you'll find out about educational materials, changes in the program, and job leads.
A useful trick is to aggregate these accounts into a private list. Anything in your general feed will scroll off quickly, but a list is convenient for viewing whenever you want to research CCNA-related matters.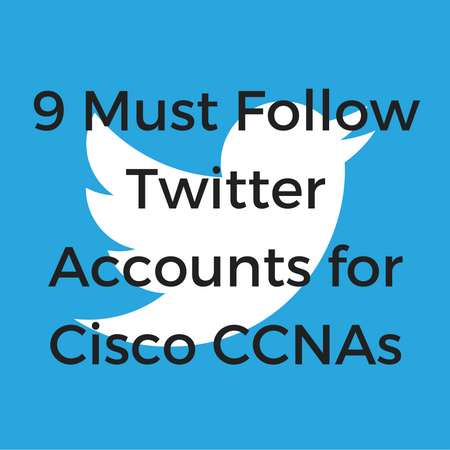 Cisco accounts
If being a CCNA is important to you, you should keep track of these official Cisco accounts:
Learning at Cisco is the place to start if you're studying for certification, or if you're thinking about where to continue after getting your CCNA. It provides links to lots of material about Cisco topics of all sorts, including webinars, lists of tips, security issues, and industry trends. It posts around ten tweets a day.



Beating the bad guys in cybercrime has become everyone's business in the digital age. Learn about what can be done. https://t.co/tJa0wVKM2P pic.twitter.com/b6UGcyznR1

— LearningatCisco (@LearningatCisco) November 2, 2016



Cisco Press describes itself as "the only authorized publisher for Cisco certification self-study and networking technology materials." It covers new publications and special offers. Cisco Press doesn't just produce books, but also makes online video courses available. This account posts three or four tweets a day, and about as many retweets.



Executive Editor Mary Beth Ray @mbray talks @CiscoNetAcad as Cisco Press celebrates 20 years as official publisher https://t.co/7C3x7eGWAb pic.twitter.com/FkP0azHm97

— Cisco Press (@CiscoPress) November 2, 2016



Cisco Support is the Twitter branch of the Cisco Support Forums. You might expect the account to focus just on support questions, but most of the tweets link to articles on technical topics, and quite a lot are about learning materials and examinations. You'll generally see one or two posts a day from the account.



Excited to see everyone at #CiscoPS16 this week! We'll be there to help you transform your customers' #digital journey @JoeCozCisco @wybahr pic.twitter.com/Qu8cDE7aW2

— Cisco Support (@Cisco_Support) October 31, 2016




Cisco Security tells you how Cisco is addressing security issues. Keeping up in this area is important for any network installer or administrator. The volume of tweets is heavy on some days, very light on others.



Just announced! See how we're transforming endpoint security with #AMPforEndpoints https://t.co/BsJumoBxrn pic.twitter.com/lB6A8wf5UJ

— Cisco Security (@CiscoSecurity) November 1, 2016




Cisco is the corporation's main Twitter account. It's mostly public relations material but helps you keep up with what the company's doing. You'll see about half a dozen tweets a day from here.



"In order to move with speed we have to simplify." - @WyBahr , SVP Global Partner Organization #CiscoPS16 #FullSpeed pic.twitter.com/O5C4SEEZbp

— Cisco (@Cisco) November 2, 2016



Cisco Cert Team is only sporadically active, and it's more personal than generally informative. It's worth adding to your list if you want to be complete.



Happy #NationalTechiesDay brothers and sisters!!!! #BeSomeoneGreat #DoSomethingGreat #Cisco https://t.co/4tnJouEwnD

— Cisco Cert Team (@CiscoCertTeam) October 3, 2016



Non-Cisco accounts
Naturally, you don't want to rely just on what Cisco says, and several accounts have a high level of relevance to CCNA. Most of them do have their own products to promote; use your own judgment.
Global Knowledge is a very popular feed with information on the IT training it offers. Its courses cover many vendors. It brings up broad issues and lets you compare the Cisco certification world with what's happening at other companies. The account has a high volume of tweets, consistently more than ten a day on working days.



CEO Sean Dolan speaking to the troops at Global Knowledge Sales Conference today. #GKSC #WeAreGlobal pic.twitter.com/s4EvYaMWwU

— Global Knowledge (@GlobalKnowledge) November 2, 2016



Todd Lammle is a "best selling author and trainer for IT career certifications," and most of his tweets are about his publications and courses. Almost all are Cisco-related. It's a low-volume account but stays active.



My new Cisco ICND1 videos are now up on Linkedin! Very cool! :) https://t.co/e68OZk9iHv

— Todd Lammle (@lammle) September 30, 2016



CCNA CCNP CCIE Labs promotes its own lab kits and study materials for Cisco certification. It's been over a year since its last tweet.



We've been getting a lot of questions about what an access server is lately. This will help answer those questions!https://t.co/F6YqWZPAPk

— CCNA CCNP CCIE Labs (@CiscoKits) August 5, 2015
If you're feeling adventurous, looking for the hashtag #CCNA turns up a high percentage of relevant information. You'll see a lot in unfamiliar languages and tweets on other CCNAs, such as the Council on Certification of Nurse Anesthetists. Even so, an occasional look will turn up some items and accounts worth examining.
Paraphrasing Forrest Gump, Twitter is like a box of chocolates; you never know what you'll get. Unlike a box of chocolates, it will have a lot you'll want to skip over. But pick the right accounts to follow or add to a list, and you'll get some useful and tasty bits of information to help advance your IT career.